Starting at:
$2,195
or $101.63/month
Starting at:
$2,295
or $106.25/month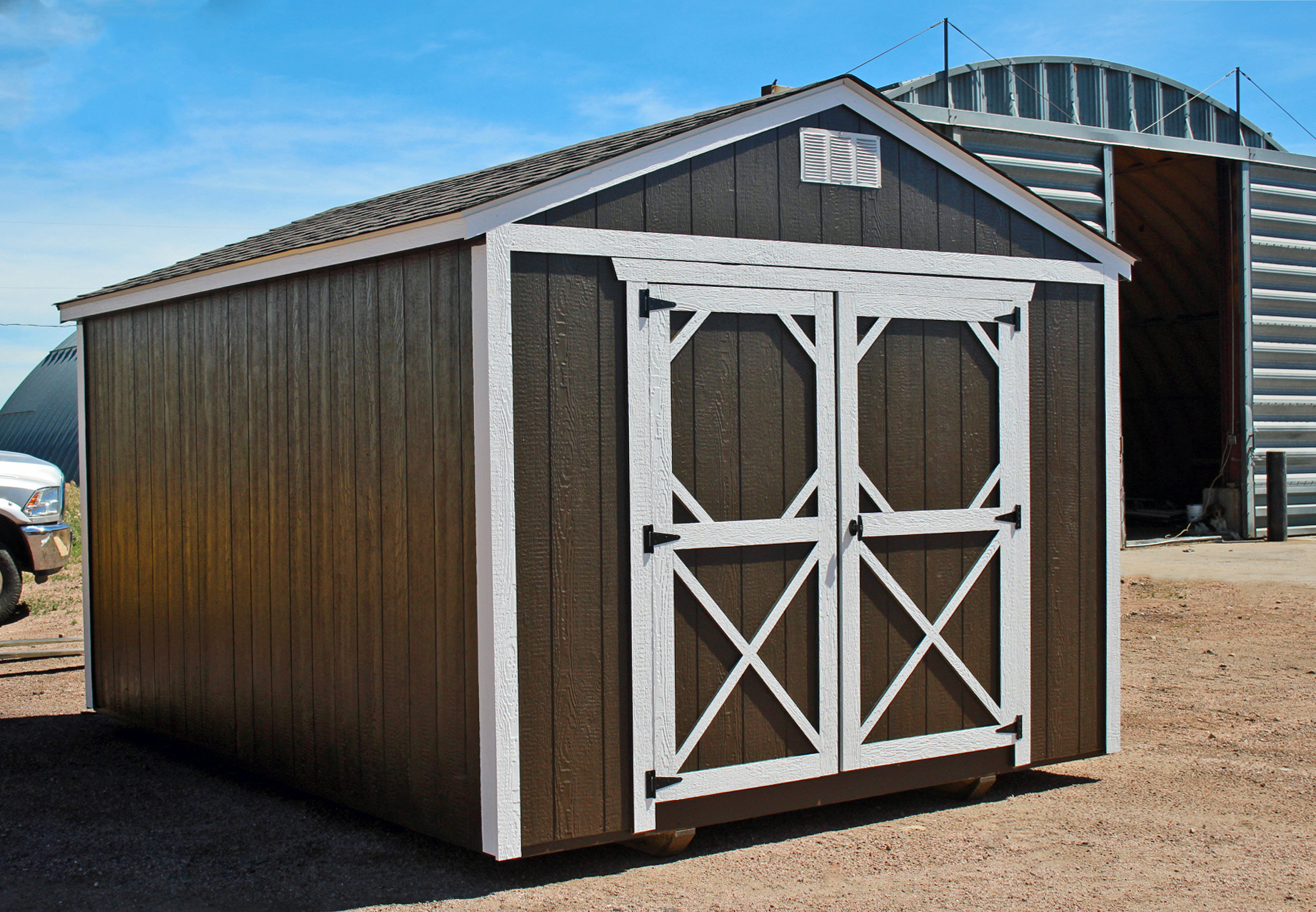 The utility shed features the industry standard gable roof and is available in 8, 10, 12 and 14 feet widths. The standard 7'8" tall sidewalls can also be ordered with 6'3" sidewalls at no additional charge. The 8ft wide version features a single wood door while the larger versions have double doors.
Standard features
7'8" Sidewalls

8' wide comes with a single wood door
Natural Wood Buildings: Stained and water sealed natural Fir Wood siding with Honey Gold Olympic stain.
Painted Buildings: Painted siding and trim with any of our standard colors. Custom colors are available for an extra charge.
WARRANTY
Building & Workmanship – 5-year warranty
Painted Siding – 5-year 100% labor and replacement warranty and a 50-year prorated limited material manufacturer warranty
Treated Joists & Skids – limited lifetime manufacturer warranty against termites and fungal decay
Roof & Shingles – 30-year manufacturer warranty
Stained Utility
Size
Price
36 mo.
8x10
$2,195
$101.63
8x12
$2,365
$109.50
8x14
$2,655
$122.92
10x12
$3,050
$141.21
10x14
$3,295
$152.55
10x16
$3,450
$159.73
10x18
$3,745
$173.38
10x20
$4,195
$194.22
12x16
$4,325
$200.24
12x20
$4,850
$224.54
12x24
$5,525
$255.79
12x28
$6,350
$293.99
12x30
$6,790
$314.36
12x32
$6,980
$323.15
Painted Utility
Size
Price
36 mo.
8x10
$2,295
$106.25
8x12
$2,465
$114.13
8x14
$2,767
$128.11
10x12
$3,170
$146.76
10x14
$3,435
$159.03
10x16
$3,610
$167.13
10x18
$3,925
$181.72
10x20
$4,395
$203.48
12x16
$4,517
$209.13
12x20
$5,090
$235.65
12x24
$5,813
$269.13
12x28
$6,686
$309.54
12x30
$7,150
$331.02
12x32
$7,364
$340.93